Hello and thank you for taking the time to read our page.
Hello and nice to meet you, my names Paul and I started the Dog Walker 8 years ago. So a little about me, how I came to starting the business and how over the last 8 years we've grown to the pretty awesome team and why I'm so proud of everyone and what we've achieved through our love and passion for animals and most importantly dogs.
So I was in the Met police for 10 years and after turning 30 I just wanted to do something I loved every day. I was sending my dogs off to daycare and walks every day and it absolutely killed me I couldn't spend every day with them. So I took 3 months off work from the police, bought myself a van, wrapped it with our infamous colours, took multiple dog training / behaviourist courses and took to the streets and local park's bombarding people why they should hand over there dog to me.
I must have looked crazy… but it's these days I look back on and think …well if there is anything to be crazy about then dogs is most definitely it. I didn't go back to the police and as they say the rest is history.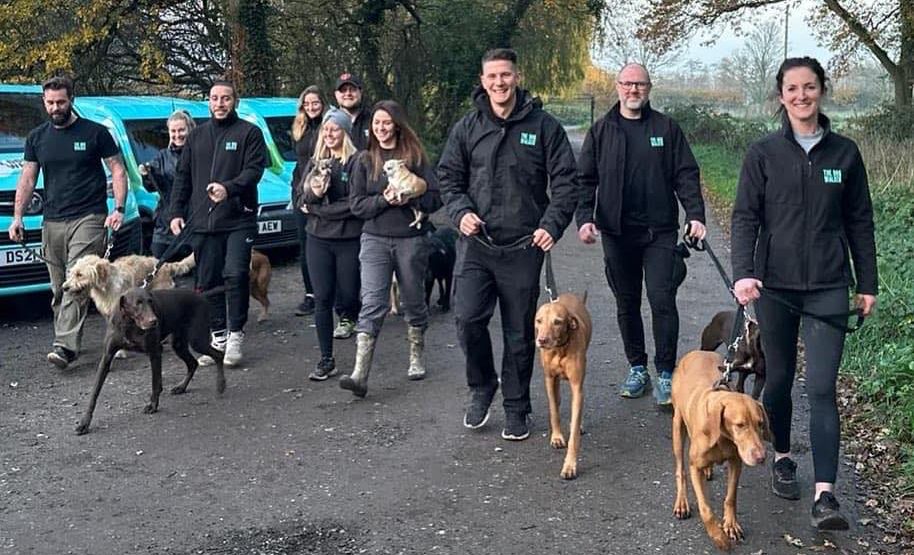 So as of today we're a super close knit team of 10. I've never advertised for one position. We're a team who have come together and been formed over the years though our love for dogs. Not just friends we are a little family and hope to welcome your dog in to it.
A little about me. I have my gorgeous wife jodie and a little one on the way. We have 3 dogs, 1 Vizsla (Eddie) and 2 chihuahuas (Hugo and lola) His and Hers. I'm a huge sports fan… literally anything goes and played although not always the best… golf would be a prime example of this.
Weekdays are spent with the dogs in the day and in the evening you'll find me in the gym. Weekends are spent find nice new picturesque walks and good coffee shops with the dogs and the wife. Just realised this sounds like a dating profile.
But I hope give you a little back ground to me and my love and passion for what I do.
The areas we currently cover are:
Surbiton, Thames Ditton, Long Ditton, East Molesey, West Molesey, Claygate, Esher, Oxshott, Hinchley Wood and Tolworth.
If your area isn't on this list please do get in touch.
Give us a call on 07989 991501